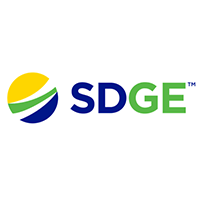 This is a first of its kind collaboration between the SDSC WIFIRE Lab and SDG&E to serve the current and evolving need for utility weather forecasters and wildland fire researchers cross-trained in the areas of data, artificial intelligence (AI), fire and weather science, and critical infrastructure protection.
Using data and modeling to better understand and mitigate the wildfire threat in the utility industry has become an increasingly important subject after the recent devastating wildfires caused by powerlines in California and around the world. Case studies involving the use of data in utility wildfire mitigation and safety strategies include tree hazard analysis and prediction, weather/fuel/lightning-related risk modeling, and grid infrastructure failure modeling. Convergence of data science and big data management with scientific and utility safety expertise is needed to take full advantage of advanced AI methods.
SDG&E is the first utility in the country to develop a dedicated Fire Science & Climate Adaptation Department; and developed the largest utility weather network in the world, a practice now being replicated across the country. The Department also generates 2km resolution weather predictions twice a day, a seven-day fire potential index product, and fuel data specific to our local environment. WIFIRE Lab works with SDG&E to enable open use of this data in scientific studies through improved findability, accessibility and utilization services with appropriate policy and access restrictions. As a part of this effort, students and AI researchers in the WIFIRE Lab work on studies involving data analysis. This program extends this work to include UC San Diego faculty and students in scientific case studies related to wildfire threat safety.
The primary goal of this program is to prepare a workforce trained to deal with the evolving needs associated wildland fire management and power utilities. SDG&E will provide critical data to foster continued research and development in fire science & climate adaptation, evaluate the impacts of climate change and improve climate resiliency to protect critical infrastructure in wildfire-prone areas, and evolve the state of the art for the protection of the power grid infrastructure from wildland fire and other natural hazard events and to develop collaborative open data approaches toward addressing climate-related weather events, wildfire mitigation and communication between utilities and emergency management.
PARTICIPATION GUIDELINES:
We invite UC Researchers and students working in wildland fire and related areas (including but not limited to, fire modeling and simulation, weather forecasting, remote sensing, climate change, landcover and fuel modeling, data science, statistics, and machine learning) to submit 2-page proposals.
          • Who May Submit Proposals: UC Faculty and researchers mentoring graduate students
          • Estimated Number of Projects: 2-3 depending on funding availability
          • Limit on Number of Proposals by an Individual: 2
          • Anticipated Project Budget and Duration: The projects should propose graduate student projects up to $75K for up to 1 year
SUBMISSION INSTRUCTIONS:
Please send your project proposal as a 2-page PDF document to Charles Erwin (cerwin@eng.ucsd.edu) by January 22, 2021, at 5 pm Pacific.
The proposals should include the following information:
          • Project title and team
          • Objectives of the project
          • Datasets of interest
          • Utility wildfire mitigation applications
          • Final deliverables
SDG&E Available Data Includes:
          • Weather data (10 years of 10-minute data)
          • Modeling data (30-year history at 3km & daily operational models)
          • Fuel moisture (NFDRS, LFM, Greenness)
          • Select non-public data
IMPORTANT DATES:
         • Submission Deadline: January 22, 2021
         • Project Q&A Session: To be scheduled for invited projects in mid-February 2021
         • Project Start Date: March 1, 2021